Organisation
Some 60 years since its inception, Coventry Scaffolding is proud to still be a family owned and family managed business. Perry Hanifan and Paul Hanifan, sons of Patrick Hanifan, who established the company in 1950, make up the executive board and play a fundamental role in the day-to-day running of the business.
Coventry's professional and passionate staff form the backbone of the company, with an impressive number having worked for Coventry for 20 years or more.
To find out how you can become part of the Coventry team, have a look at our Jobs page. Or to download a PDF of the company organisational structure click here.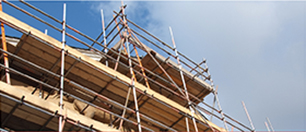 What makes us different
Coventry Scaffolding is no ordinary scaffolding company. We offer the top scaffolds, with the best health and safety, at an affordable price - delivering your scaffolding project on time, on budget and to the highest standards.