Training
At Coventry Scaffolding, training and personal development is a top priority. We have a long-standing reputation for quality training standards. All of our scaffolders, and advanced scaffolders are CITB trained, and within every team of scaffolders, there is always an advanced scaffolder, so you can be sure you'll get the most experienced, qualified scaffolders around.
Coventry has a structured training programme for all employees. Whether you're a labourer, trainee scaffolder, scaffolder or advanced scaffolder, we'll help you progress to the next stage in your career.
We make sure new staff are given time to get used to handling equipment, and fully supported as they study for qualificatiions for the relevant role.
All our scaffolders follow this training route, with regular audits and refresher courses to make sure they're at the top of their game, no matter what level they're at:
- COTS course
- Trainee card application
- NVQ Part I
- NVQ Part II
- Qualified Scaffolder
- Advanced Scaffolder application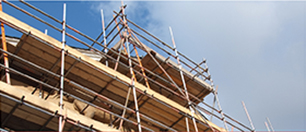 What makes us different
Coventry Scaffolding is no ordinary scaffolding company. We offer the top scaffolds, with the best health and safety, at an affordable price - delivering your scaffolding project on time, on budget and to the highest standards.