Coventry Scaffolding plants 70 trees for 70th anniversary
21/05/21
Coventry Scaffolding was delighted to celebrate its 70th birthday in July 2020 and, to commemorate the occasion, announced its intention to plant 70 trees – one for each year in business.
While our original plan to carry out this activity last year was delayed due to the coronavirus pandemic, we're pleased to announce that the gradual easing of restrictions has allowed us to recently fulfil our commitment by dedicating 70 trees in the National Forest.
"Ensuring that our work is sustainable has always been one of the core pillars of the business," said Coventry's Co-Director Perry Hanifan. "We do everything we can to try and reduce our environmental impact, including sourcing our scaffolding boards from a PEFC-certified supplier and recycling materials wherever possible."
"For our 70th anniversary we wanted to go even further by replenishing some of the resources we've used over the years and, considering the current situation with COVID-19, we wanted to focus on doing something positive for the future. Trees are often seen as a symbol of hope, regeneration and new beginnings, which is what we all need right now."
The National Forest is a 200-square-mile patch of woodland in the heart of the Midlands created as a 'forest for everyone'. It is managed by charitable organisation, The National Forest Company, which has been planting trees and restoring the habitat in the area since 1995, with the aim of providing a more sustainable and positive future for the next generation. The forest recently celebrated the planting of its nine millionth tree.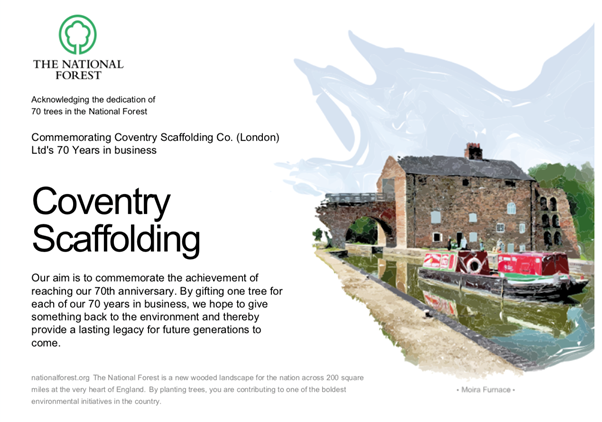 Keep up to date with all our latest news by following us on social media. You can find us on Facebook, Twitter, LinkedIn and Instagram.