Coventry Scaffolding raises money for Breast Cancer charities
06/01/21
At Coventry Scaffolding, supporting breast cancer charities is a cause close to our hearts, which is why, when the time came to order some new Coventry hoodies for our scaffolders, we saw a great opportunity to spread awareness and raise some money for a fantastic cause.
We proudly printed the pink ribbon breast cancer awareness symbol alongside our logo and asked our scaffolders to make a donation for their hoodie, which would be matched by the company. We were overwhelmed by the generosity of our staff after receiving £650 in donations. With the company's contribution the total amount raised was £1300, which we decided to split between two different breast cancer charities.
Coppa Feel! aims to raise awareness and educate people on breast cancer and the symptoms. Their focus is on early diagnosis, to give everyone the best possible chance of survival.
The Pink Ribbon Foundation helps fund UK charities in their vital work carrying out research and offering support to those with breast cancer. Some of the charities supported by the Foundation include, Cancer Research UK, Macmillan, Against Breast Cancer, Breast Cancer Haven and many more.
The donations from the Coventry Scaffolding team were made in October 2020, Breast Cancer Awareness Month, and we were grateful to receive this kind letter of thanks from the Pink Ribbon Foundation shortly afterwards.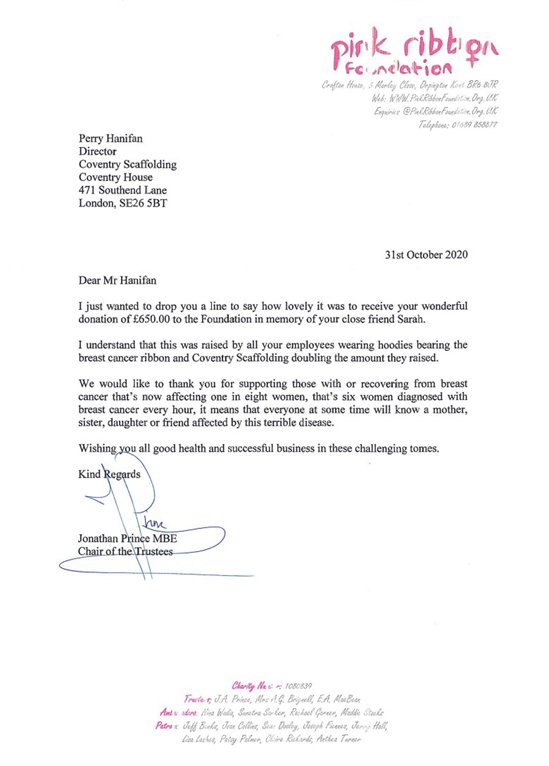 Keep up to date with everything we're up to by following us on social media. You can find us on Facebook, Twitter, LinkedIn and Instagram.